Dutch pension manager PGGM has bought stakes in two private equity funds run by Palamon Capital Partners, after its previous backers sought to sell their holdings.The sale of the stakes to a consortium consisting the €186bn PGGM, the private equity arm of Goldman Sachs, Adams Street Partners, Morgan Stanley Alternative Investment Partners and Rothschild Merchant Banking was completed after an auction overseen by Credit Suisse Private Funds Group.After buying into Palamon I and Palamon II, established in 1999 and 2006, PGGM now owns stakes in UK financial advisor Towry, Italian consumer finance company Sigla and Spanish residential care provider SARquavita.The funds also own a Nordic energy broker, Eneas, and a German-based medical company and UK dentistry chain IDH, which in May listed on the London Stock Exchange. The agreement, which came about after limited partners in both funds opted to sell their holdings, has also seen the consortium commit undisclosed additional capital to a Palamon fund launched in 2013.Louis Elson, managing director at Palamon, praised the "easy-to-access" process that allowed the existing limited partners to sell their stakes."Recognition should be given to Credit Suisse, who ran a process that will no doubt serve as an industry benchmark for building further alignment and fluidity into the secondary market," he added.The deal will continue to grow PGGM's private equity holdings, for which the manager has a target allocation of 5%.Last autumn, PGGM bought a 20% stake in Nordian Capital Partners, formerly the private equity arm of Rabobank, on behalf of Dutch healthcare sector scheme PFZW.At the time, PGGM also committed a further €300m to a new Nordian fund, growing its private equity holdings to €8bn.
read more
A GAME-high 28 points from Terron Welch and a 16-point all-round performance from Ray Victor pushed Guyana to a 22-point win (97 – 75) over Grenada on Saturday evening at the Cliff Anderson Sports Hall, in game two of their Goodwill Basketball Series.While Victor torched the visitors with a 39-point display in Game One, it was Welch who 'blew fire' whenever he was on the floor, with the Lindener lighting up the men from the Spice Isle with his marksman-like shooting from 'down town'.After the first game, Head Coach Naka Joseph pointed out his men were not use to playing on a wooden floor, since, in Grenada, their 'semi' indoor facility is actually a surface that was built for Volleyball and as such, they had difficulties adjusting to using the Molten-brand ball and the surface.However, it seemed as though they had adjusted pretty well, since they were the aggressors in the opening stanza, but still trailed 24 – 25 at the end of the period.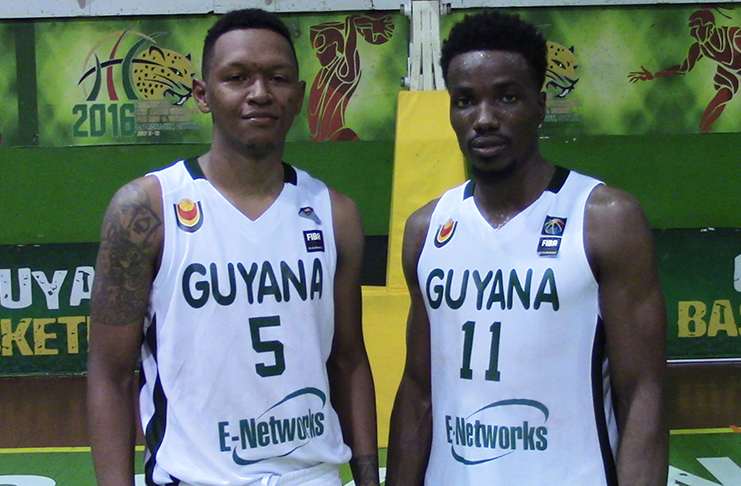 Terron Welch (L) and Ray VictorGuyana, behind Welch and Victor and some good display of basketball from Victory Valley Royals point guard, Yonnick Tappin, led 43 – 38 at the end of the first half.The third quarter was where Guyana exploded, outscoring the visitors 30 – 17 (43 – 38) to set the home side on an easy path to victory.Joshua Williams scored a team-high 26 points and Andrew James was Grenada's second highest scorer with 17 points.The two countries played their final game of the series last evening.
read more